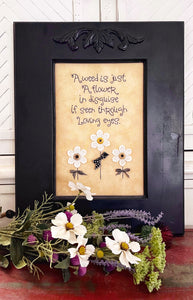 A weed is just a flower in disguise if seen through loving eyes.  I have loved this thought for so many years.  It was hand-written into the cover of an old book gifted to me by my husband, and of course it found it's way into one of my most loved embroidery samplers.   This saying is loved for the reminder that all things can be seen as beautiful and can hold value when seen with love.   In my drawings, paintings and natural dye processes I have found the most deep and beautiful colors in what some would call weeds.  All...
---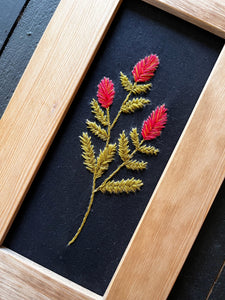 Of all the flowers that grow in the wild, the Indian Paintbrush makes my heart jump every time I'm blessed to find one.  This wild flower grows in the west among  dry, rocky soil and is found in the wild fields in the east, both places I have called home in my life.  It symbolizes the Wayfinder or following your own path, which is my "word" and has a deep connection to my soul.   Wild Bloem Indian Paintbrush Embroidery    This month we painted the Indian Paintbrush Barn Quilt as part of the Wild Bloem Collection, our 2023 Block of...
---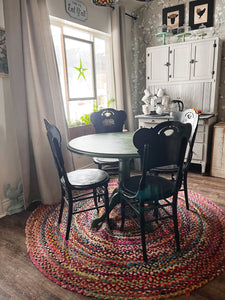 Farmhouse furniture has been trending for a few years now, typically with white on white with minimal wood finishes.  Though the  exterior of the old farmhouse I grew up in was white with black shutters, the interior rooms were full of color.  The rooms all had wood, marble, crystal, and colored glass and furniture in the home had a story to tell.     I've had this little breakfast table in my kitchen for many years, all white with white chairs, until this past week when I decided to paint it in one of my favorite Prairie Paint  colors, Castle Creek. The inspiration...
---
• barn quilt • barn quilts • embroidery • kits
Our newest collection is so close to my heart and I am beyond excited to begin the introduction of Wilde Bloem.  With whispers from the meadows surrounding our beautiful farms, each block is a flower with a message.  We are so happy to focus on one flower and message the next nine months of 2023.  Introducing Wilde Bloem which translated in Dutch is Wildflower. Wilde Bloem Barn Quilt Block of the Month Nine florals, a gathering vine and two adorable quilted bees come as monthly kits to paint, sew or embroider together.  As we discussed which of our favorite wildflowers to add,...
---
• Furniture • Home and Seasons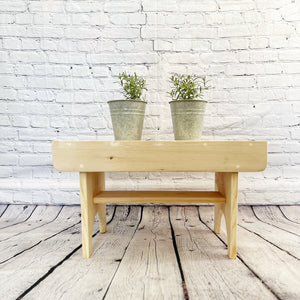 One of my most loved pieces of furniture in my home is my collection of Farmhouse Nesting Benches.  I use them for seating, tables, bookshelves and planting towers.  I have stained and painted so many of them over the years and can never have enough of them.  We wanted to bring them to our online shop this spring and I am so happy with the style we came up with to make these available for you.   Farmhouse Nesting Benches We have two sizes that fit perfectly together.  Each come sanded smooth, with pre-drilled holes and hardware to assemble.  They are unfinished, ready...