• barn quilt • barn quilts • kits • patterns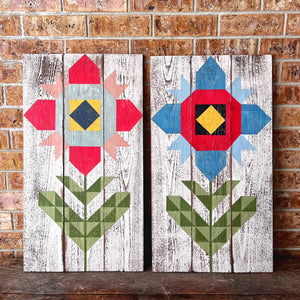 The long months of winter are almost past, and with new sunshine comes the growth of new life in vibrant color.  We just couldn't wait any longer to release a few of these painted flowers to bring a whisper to spring to your heart.  Prairie Petals is now available in our shop in painted barn quilts, kits and patterns.   Designed with the whimsical folk style that we love so much, and hand painted on very old reclaimed wood.  I am so excited to see these finished and to see so much of the dark wood come up during the finishing.  I...
---
• barn quilt • barn quilts • patterns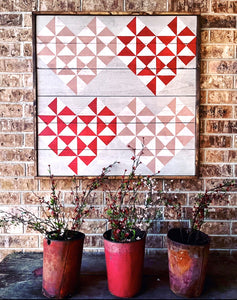 Our newest barn quilt design is the Paper Hearts. Inspired by the paper chains we made in elementary school to decorate the windows and chalkboards of our class rooms. I loved making them as a child, and I loved painting this barn quilt to hang on my front porch for the month of February. Paper Hearts Barn Quilt The design pictured above is a 33" framed in reclaimed cedar in a white distress which compliments the soft colors in Paper Hearts. Painted in our Prairie Paints colors, (Homestead White, Poppy Pink, Indian Paintbrush and Lambs Ear). Each barn quilt is...
---
• embroidery • kits • patterns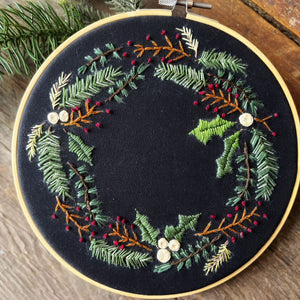 ---
• barn quilt • barn quilts • patterns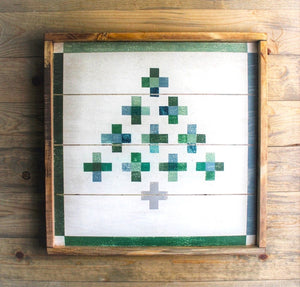 It has been a long time coming, but here are the two most requested patterns of 2022, The Swiss Christmas Barn Quilt Pattern and Chadwick Farms.  We are so excited to have them printed and in our shop ready for shipping this week!   The Swiss Christmas is a striking clean and simple little tree, made of Swiss Crosses and painted in my favorite Prairie Paint greens.  This design is an original from us at Tweetle Dee and was created to honor our Swiss friends, and there love of simple design.  For years, we have brought this with us to all of our...
---
• barn quilt • barn quilts • kits • patterns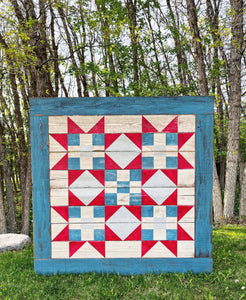 American Denim is our newest barn quilt in the Tweetle Dee Collection.  It is one of my favorite barn quilts of all time, and was inspired by the chambray colors of old denim.  My love of denim is known by my family and friends as I wear old frayed denim in all colors, with patches and stitching most days. There is just something about the soft, shades of denim cotton that says home. American Denim Barn Quilt   I choose to design this pattern with the richest red in our Prairie Paints Collection of gel-chalk paint.  Rooster Red was the...