• classes • Classes Workshops • embroidery • workshops
New to our class schedule for 2023 is three embroidery classes!  You all know my love of stitching and these three classes I choose for the year are simple and beautiful and will give you all the skills to hand embroider like a hoop-art pro.   My Soul Belongs to the Wildflowers Embroidery Workshop   Each workshop comes with a kit to complete each project, instruction, lunch and laughs.  We love our embroidery classes because of the slow pace we set to really enjoy the art of embroidered florals.   Field of Flowers Embroidery Workshop   You can find the schedule for...
---
• barn quilt • classes • workshops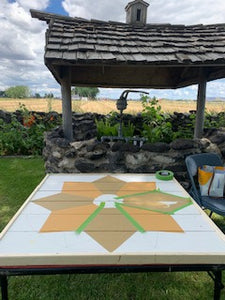 One of the highlights of the summer was our Olie & Evie Barn Quilt Workshop in gorgeous Idaho.  We loaded up the trailer with barn quilts, patterns and our Prairie Paints and drove through the night to wake up in the beautiful farmland of western Idaho to join the loveliest group of ladies for a day of barn quilting!  As you browse through the pictures you will see why we love our traveling workshops.  The blessing of gathering and "quilting" together brings pure joy!   We are so thankful to Rhonda from Olie and Evie for inviting us to her beautiful shop and...
---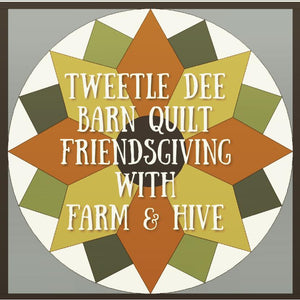 Our Tweetle Dee Barn Quilt Friendsgiving on the Farm will be the best of all of our classes this year!  We will be hosting this event at Farm & Hive in Payson, Utah in their beautiful new barn!  We will be painting barn quilts, enjoying a amazing fall farm lunch with treats from Suzy's   harvest & even take a hay ride through the orchards. Date : November 14th from 10:00 to 5:00 Where : Farm & Hive in Payson, Utah       Registration includes a 22" barn quilt with all materials needed to complete your own barn quilt...