• classes • Classes Workshops • embroidery • workshops
New to our class schedule for 2023 is three embroidery classes!  You all know my love of stitching and these three classes I choose for the year are simple and beautiful and will give you all the skills to hand embroider like a hoop-art pro.   My Soul Belongs to the Wildflowers Embroidery Workshop   Each workshop comes with a kit to complete each project, instruction, lunch and laughs.  We love our embroidery classes because of the slow pace we set to really enjoy the art of embroidered florals.   Field of Flowers Embroidery Workshop   You can find the schedule for...
---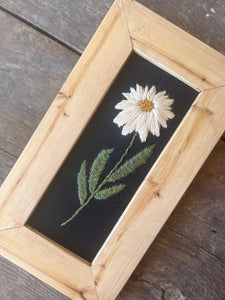 Our Wilde Bloem Collection continues to grow today with the addition of the Wilde Daisy Embroidery Kit.  Daisies dotting the fields and roadways in the rolling fields of the east and northwest are such a beautiful gift from nature.  Have you ever wondered why they grow in tough places?   Historically Daisies symbolize hope.  When I research the meanings of flowers, I always wonder why a certain meaning is attached to a gift of nature.  I wonder if it's the color, structure, growth patterns, etc.  It's funny to me that I spent many summer afternoons picking petals off of Wild Daisies asking...
---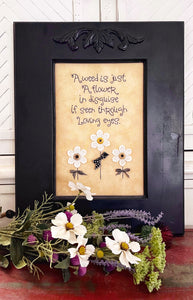 A weed is just a flower in disguise if seen through loving eyes.  I have loved this thought for so many years.  It was hand-written into the cover of an old book gifted to me by my husband, and of course it found it's way into one of my most loved embroidery samplers.   This saying is loved for the reminder that all things can be seen as beautiful and can hold value when seen with love.   In my drawings, paintings and natural dye processes I have found the most deep and beautiful colors in what some would call weeds.  All...
---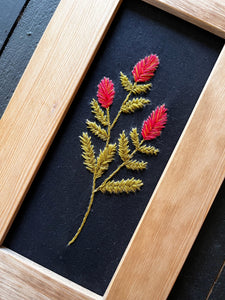 Of all the flowers that grow in the wild, the Indian Paintbrush makes my heart jump every time I'm blessed to find one.  This wild flower grows in the west among  dry, rocky soil and is found in the wild fields in the east, both places I have called home in my life.  It symbolizes the Wayfinder or following your own path, which is my "word" and has a deep connection to my soul.   Wild Bloem Indian Paintbrush Embroidery    This month we painted the Indian Paintbrush Barn Quilt as part of the Wild Bloem Collection, our 2023 Block of...
---
• barn quilt • barn quilts • embroidery • kits
Our newest collection is so close to my heart and I am beyond excited to begin the introduction of Wilde Bloem.  With whispers from the meadows surrounding our beautiful farms, each block is a flower with a message.  We are so happy to focus on one flower and message the next nine months of 2023.  Introducing Wilde Bloem which translated in Dutch is Wildflower. Wilde Bloem Barn Quilt Block of the Month Nine florals, a gathering vine and two adorable quilted bees come as monthly kits to paint, sew or embroider together.  As we discussed which of our favorite wildflowers to add,...