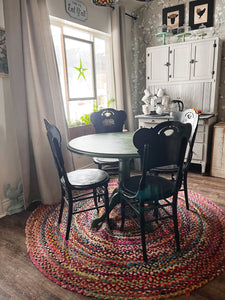 Farmhouse furniture has been trending for a few years now, typically with white on white with minimal wood finishes.  Though the  exterior of the old farmhouse I grew up in was white with black shutters, the interior rooms were full of color.  The rooms all had wood, marble, crystal, and colored glass and furniture in the home had a story to tell.     I've had this little breakfast table in my kitchen for many years, all white with white chairs, until this past week when I decided to paint it in one of my favorite Prairie Paint  colors, Castle Creek. The inspiration...
---
• barn quilts • Prairie Paints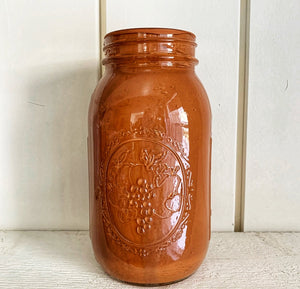 As the summer heat turns the milkweed to amber, I know that its just a month or two before the leaves will begin to turn to the gorgeous colors of fall.  One of my favorite colors in our Prairie Paint Fall Collection is Maple Sap.  The color Maple Sap is like a rich, deep orange-ish, golden brown that can be found in the crisp leaves of fall or an heirloom pumpkin.  Whenever I am painting a fall design and need an orange, I reach for Maple Sap.  I do love our Pumpkin Patch color for brighter, vintage inspired oranges, but Maple Sap...
---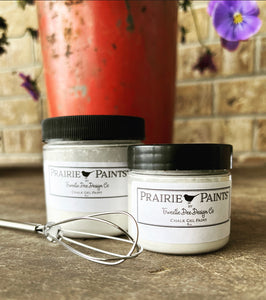 Two new products launch this week in our Prairie Paints line.  Our Prairie Paints Gel-Chalk Paint Powder and our yummy Prairie Paint Finishing Wax.  Both of these products have been in testing and production for the past year, and are now perfected and ready to share with all of our Tweetle Dee & Prairie Paint friends in our our shop. Prairie Paints Gel-Chalk PowderOur Prairie Paints Gel-Chalk Powder will turn any water based paint into a beautiful gel-chalk paint.  It is the same formula we use as a base in our own 58 gorgeous Prairie Paint line.  The powders come in...
---
• barn quilt • barn quilts • kits • patterns • Prairie Paints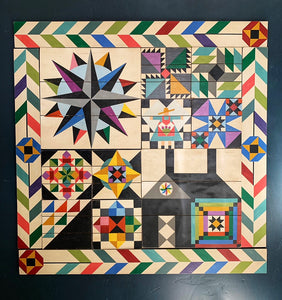 Whenever I am asked what barn quilt is my favorite, I have a difficult answering.  So many of our designs come from the heart, a story, a family legacy.  Those designs take on the life and love of the client's story.  For me personally, my favorite is the Moonbeams & Cabin Dreams Collection.     It is the story of family's experiences in homesteading the Nebraska plains in the late 1800's and the 1900's prior to the Dustbowl and Great Depression.  Their stories have been published in the history of Nebraska along with the settlers that settled those empty plains.  Their...
---
• barn quilt • barn quilts • Prairie Paints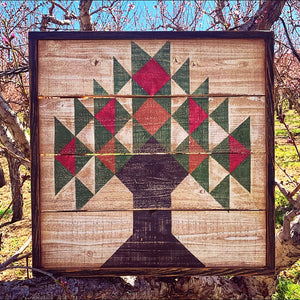 The buds are popping out in all of the orchards around our mountain community with bright swatch paths of pink, peach and red.  We are so excited to release our newest original barn quilt design, The Orchard Tree.   The Orchard TreeWe love this design with it's half square triangles all pointing to the heart of the tallest orchard tree in the field.  The little burst of color are the fruits of the orchard, apples, peaches and cherries.  Dry brushed on farm wood and framed in a black wash, it has the look of wood fruit crates.  Our Orchard Tree is available in...