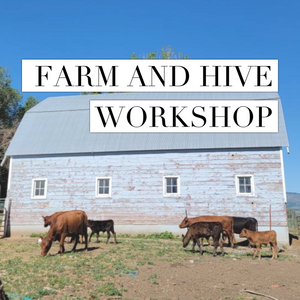 Hi all!  We are right in the middle of summer and loving all of the long sunny days, with flowers growing and bees a buzzing.  One of my favorite "bee friends" has invited us to come to her new farm in Idaho to teach a two day workshop in October.  Farm and Hive  is where we will be on October 13th and 14th and we can't wait to share the details with you.     We have been blessed to know Susie Goodspeed for many years.  We met at an event in Midway, Utah where she was selling her honey and beeswax products...
---
• classes • Classes Workshops • embroidery • workshops
New to our class schedule for 2023 is three embroidery classes!  You all know my love of stitching and these three classes I choose for the year are simple and beautiful and will give you all the skills to hand embroider like a hoop-art pro.   My Soul Belongs to the Wildflowers Embroidery Workshop   Each workshop comes with a kit to complete each project, instruction, lunch and laughs.  We love our embroidery classes because of the slow pace we set to really enjoy the art of embroidered florals.   Field of Flowers Embroidery Workshop   You can find the schedule for...
---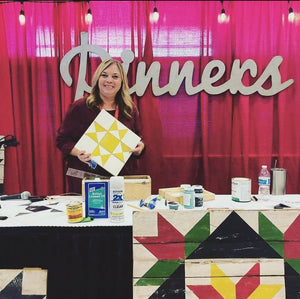 It's Pinners week!  We are so excited to be loading our van and driving out to Georgia for this week's Pinners Conference in Atlanta.  We love our Georgia Pinners friends and can't wait to join you this Friday and Saturday March 11th and 12th at the Cobb Galleria Centre.  We will be teaching three amazing classes this year.   We will be teaching our How to Paint a Barn Quilt class on Saturday at 4:00.  The Farmer's Daughter is the barn quilt we will be making, one of my all time favorites.   In the class we will be covering how to draw a pattern, how...
---
• barn quilt • barn quilts • classes • kits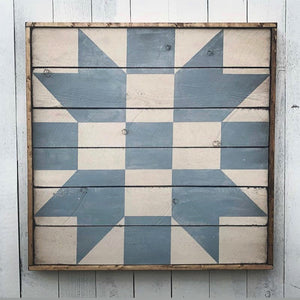 If you have ever wanted to attend one of our in-person How to Paint a Barn Quilt Classes but live too far away, you will be so happy to know that we are offering our first live Zoom How to Paint a Barn Quilt Class on April 9th! This class will be online on Zoom and added to our growing YouTube Channel.   In the class as will be teaching all of our best techniques for painting a barn quilt that has the perfectly vintage look that sets us apart from other barn quilt painters.  We will cover everything form A to Z with...
---
• barn quilt • barn quilts • classes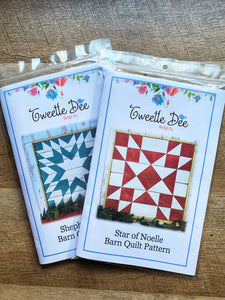 Today is release day for two new Christmas barn quilt patterns, The Star of Noelle and the Shepherd's Star.  Both are available in the shop today as paper patterns and as PDF downloads.  Just in time for some holiday painting.    This week is also our annual HoHoHo Sale with 30% off all orders, including all kits, paints, barn quilts, and classes.  If you have wanted to paint a barn quilt or learn how to embroider on wood, check out or classes for 2022!  They are amazing and all are offered as zoom classes with kits included so we can paint and...