• barn quilt • barn quilts • embroidery • kits
Our newest collection is so close to my heart and I am beyond excited to begin the introduction of Wilde Bloem.  With whispers from the meadows surrounding our beautiful farms, each block is a flower with a message.  We are so happy to focus on one flower and message the next nine months of 2023.  Introducing Wilde Bloem which translated in Dutch is Wildflower. Wilde Bloem Barn Quilt Block of the Month Nine florals, a gathering vine and two adorable quilted bees come as monthly kits to paint, sew or embroider together.  As we discussed which of our favorite wildflowers to add,...
---
• barn quilt • barn quilts • kits • patterns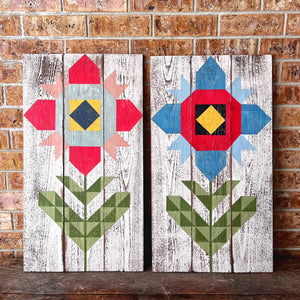 The long months of winter are almost past, and with new sunshine comes the growth of new life in vibrant color.  We just couldn't wait any longer to release a few of these painted flowers to bring a whisper to spring to your heart.  Prairie Petals is now available in our shop in painted barn quilts, kits and patterns.   Designed with the whimsical folk style that we love so much, and hand painted on very old reclaimed wood.  I am so excited to see these finished and to see so much of the dark wood come up during the finishing.  I...
---
• embroidery • kits • patterns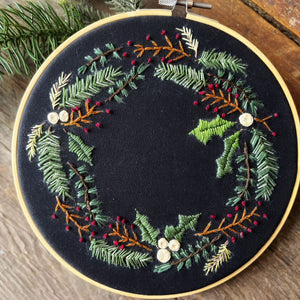 ---
• barn quilt • barn quilts • kits • patterns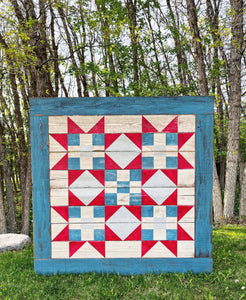 American Denim is our newest barn quilt in the Tweetle Dee Collection.  It is one of my favorite barn quilts of all time, and was inspired by the chambray colors of old denim.  My love of denim is known by my family and friends as I wear old frayed denim in all colors, with patches and stitching most days. There is just something about the soft, shades of denim cotton that says home. American Denim Barn Quilt   I choose to design this pattern with the richest red in our Prairie Paints Collection of gel-chalk paint.  Rooster Red was the...
---
• barn quilt • barn quilts • classes • kits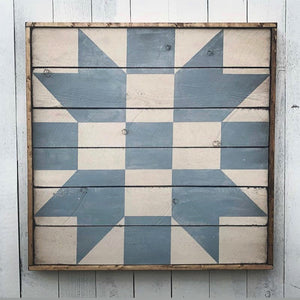 If you have ever wanted to attend one of our in-person How to Paint a Barn Quilt Classes but live too far away, you will be so happy to know that we are offering our first live Zoom How to Paint a Barn Quilt Class on April 9th! This class will be online on Zoom and added to our growing YouTube Channel.   In the class as will be teaching all of our best techniques for painting a barn quilt that has the perfectly vintage look that sets us apart from other barn quilt painters.  We will cover everything form A to Z with...