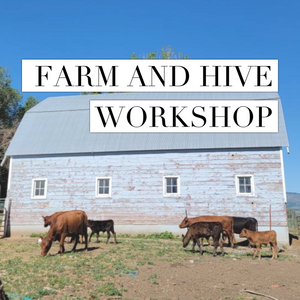 Hi all!  We are right in the middle of summer and loving all of the long sunny days, with flowers growing and bees a buzzing.  One of my favorite "bee friends" has invited us to come to her new farm in Idaho to teach a two day workshop in October.  Farm and Hive  is where we will be on October 13th and 14th and we can't wait to share the details with you.     We have been blessed to know Susie Goodspeed for many years.  We met at an event in Midway, Utah where she was selling her honey and beeswax products...
---
• classes • Classes Workshops • embroidery • workshops
New to our class schedule for 2023 is three embroidery classes!  You all know my love of stitching and these three classes I choose for the year are simple and beautiful and will give you all the skills to hand embroider like a hoop-art pro.   My Soul Belongs to the Wildflowers Embroidery Workshop   Each workshop comes with a kit to complete each project, instruction, lunch and laughs.  We love our embroidery classes because of the slow pace we set to really enjoy the art of embroidered florals.   Field of Flowers Embroidery Workshop   You can find the schedule for...