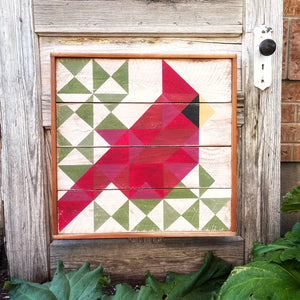 Every morning we would climb onto Grandma's couch that slide up to the table in front of the window to look out for the birds that visited the feeders she and my Grandpa tended to.  On the breakfast table was a pair of binoculars and a bird identification book.  Maybe they helped us look for birds to keep us little one's busy, but we loved the time looking for one very special bird, the Cardinal.   She loved those bright red birds, especially against the white snow that drifted on the hills around the farm.  We could see them everywhere when snow...
---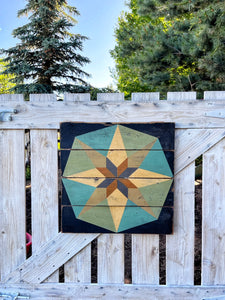 Our two new Wilde Bloem flowers are releasing today.  We are excited to add Bloeming Sunflowers and Wilde Clover to our growing collection of floral inspired barn quilts, barn quilt kits and patterns.   Both of these flowers are dear to our hearts because of the symbolism in each of them.  All of the Wilde Bloem flowers were chosen for their meanings and for design elements that make them extra beautiful in paint and cloth quilts. Bloeming Sunflower Barn Quilt Bloeming Sunflower Barn Quilt Kit The Bloeming Sunflower and Wilde Clover Barn Quilt Kits include a Farmhouse Planked Barn Quilt Board,...
---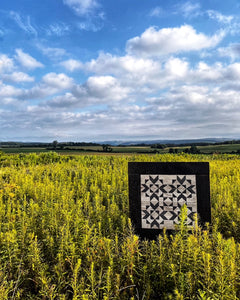 Often I am asked what was the story behind a quilt design, whether it is created on cloth or wood.  I love a good story, and creating a design with elements that bring that story to life.  We have designed many original quilt designs for people who wanted to honor their own stories.  Today, I want to share the story of one of my family branches and the way that story made it's way into one of my favorite designs.   The Kincaid Star photographed where the Kincaid home stood in Avoca, NY.  My grandmother would stop to care for their...
---
• barn quilt • barn quilts • embroidery • kits
Our newest collection is so close to my heart and I am beyond excited to begin the introduction of Wilde Bloem.  With whispers from the meadows surrounding our beautiful farms, each block is a flower with a message.  We are so happy to focus on one flower and message the next nine months of 2023.  Introducing Wilde Bloem which translated in Dutch is Wildflower. Wilde Bloem Barn Quilt Block of the Month Nine florals, a gathering vine and two adorable quilted bees come as monthly kits to paint, sew or embroider together.  As we discussed which of our favorite wildflowers to add,...
---
• barn quilt • barn quilts • kits • patterns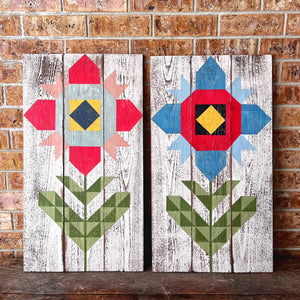 The long months of winter are almost past, and with new sunshine comes the growth of new life in vibrant color.  We just couldn't wait any longer to release a few of these painted flowers to bring a whisper to spring to your heart.  Prairie Petals is now available in our shop in painted barn quilts, kits and patterns.   Designed with the whimsical folk style that we love so much, and hand painted on very old reclaimed wood.  I am so excited to see these finished and to see so much of the dark wood come up during the finishing.  I...