• barn quilt • barn quilts • patterns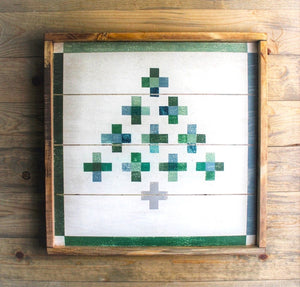 It has been a long time coming, but here are the two most requested patterns of 2022, The Swiss Christmas Barn Quilt Pattern and Chadwick Farms.  We are so excited to have them printed and in our shop ready for shipping this week!   The Swiss Christmas is a striking clean and simple little tree, made of Swiss Crosses and painted in my favorite Prairie Paint greens.  This design is an original from us at Tweetle Dee and was created to honor our Swiss friends, and there love of simple design.  For years, we have brought this with us to all of our...
---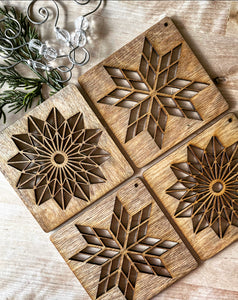 The holidays are here is December 1st less than a day away.  I've packed up all the fall and have brought our all the bins of Christmas.  It's so much, but one of our favorite seasons to decorate for.  When the tree is up and the lights are on, it feels magical.  This season we are so happy to share with you are Barn Quilt Ornament Set. Each set comes with four wood ornaments carved in our two most loved designs, the Texas Star and the Amish Hex Twelve Point Star.  If you follow us, you know we love color, but...
---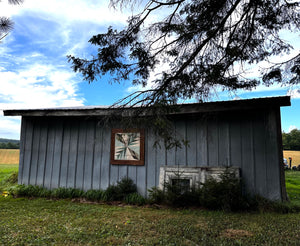 Our newest barn quilt release is the Blue Spruce.  When we were traveling to visit our family in NY, we wanted to give a barn quilt to my cousin to hang at the farm. She wanted something with pine trees.  Her home is surrounded by tall, beautiful pine trees and at the end of the orchard is this old pole barn.  The perfect place for a barn quilt designed with long wispy pine boughs and cones.  The orchard was one of our favorite places as kids.  There were apple trees that were loving cared for by our grandfather who loved to...
---
• barn quilt • barn quilts • kits • patterns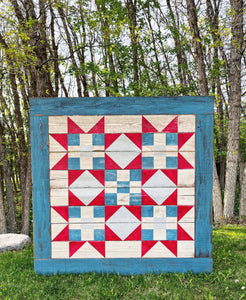 American Denim is our newest barn quilt in the Tweetle Dee Collection.  It is one of my favorite barn quilts of all time, and was inspired by the chambray colors of old denim.  My love of denim is known by my family and friends as I wear old frayed denim in all colors, with patches and stitching most days. There is just something about the soft, shades of denim cotton that says home. American Denim Barn Quilt   I choose to design this pattern with the richest red in our Prairie Paints Collection of gel-chalk paint.  Rooster Red was the...
---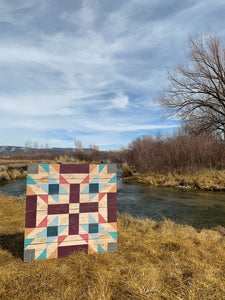 The colors of spring are beginning to burst around our mountains which have inspired two new spring barn quilts for 2022.  The Plum Creek and Carolina Lily Barn Quilts are painted with our vintage paint collection, Prairie Paints.  Available in many sizes with framing options make these perfect for outdoors, front porches and homes.  Plum Creek Barn Quilt The Plum Creek Barn Quilt was inspired by the colors that line the creek bed of our mountain home. Beautiful deep plums, soft neutrals.  So pretty together.  It comes without a frame, painted on reclaimed wood and sealed for indoor or outdoor use.  Frames...