• barn quilt • barn quilts • classes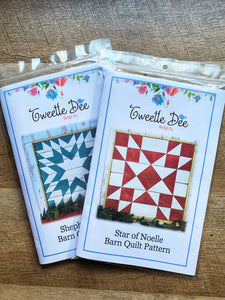 Today is release day for two new Christmas barn quilt patterns, The Star of Noelle and the Shepherd's Star.  Both are available in the shop today as paper patterns and as PDF downloads.  Just in time for some holiday painting.    This week is also our annual HoHoHo Sale with 30% off all orders, including all kits, paints, barn quilts, and classes.  If you have wanted to paint a barn quilt or learn how to embroider on wood, check out or classes for 2022!  They are amazing and all are offered as zoom classes with kits included so we can paint and...
---
• barn quilt • classes • workshops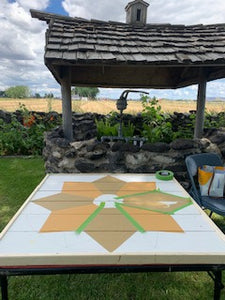 One of the highlights of the summer was our Olie & Evie Barn Quilt Workshop in gorgeous Idaho.  We loaded up the trailer with barn quilts, patterns and our Prairie Paints and drove through the night to wake up in the beautiful farmland of western Idaho to join the loveliest group of ladies for a day of barn quilting!  As you browse through the pictures you will see why we love our traveling workshops.  The blessing of gathering and "quilting" together brings pure joy!   We are so thankful to Rhonda from Olie and Evie for inviting us to her beautiful shop and...
---
• classes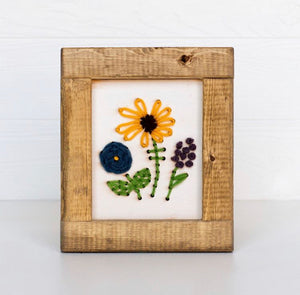 We are excited to announce a new set of online Zoom classes coming in February!  So many of you have expressed interest in attending our How to Paint a Barn Quilt Workshop but due to distance were not able to attend.  Now you can through the miracle of online classes.  
---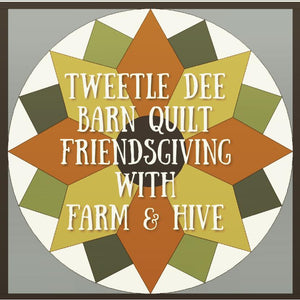 Our Tweetle Dee Barn Quilt Friendsgiving on the Farm will be the best of all of our classes this year!  We will be hosting this event at Farm & Hive in Payson, Utah in their beautiful new barn!  We will be painting barn quilts, enjoying a amazing fall farm lunch with treats from Suzy's   harvest & even take a hay ride through the orchards. Date : November 14th from 10:00 to 5:00 Where : Farm & Hive in Payson, Utah       Registration includes a 22" barn quilt with all materials needed to complete your own barn quilt...