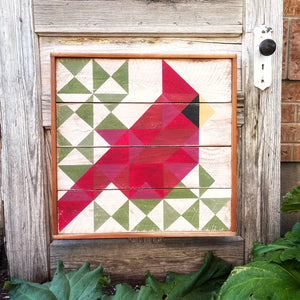 Every morning we would climb onto Grandma's couch that slide up to the table in front of the window to look out for the birds that visited the feeders she and my Grandpa tended to.  On the breakfast table was a pair of binoculars and a bird identification book.  Maybe they helped us look for birds to keep us little one's busy, but we loved the time looking for one very special bird, the Cardinal.   She loved those bright red birds, especially against the white snow that drifted on the hills around the farm.  We could see them everywhere when snow...
---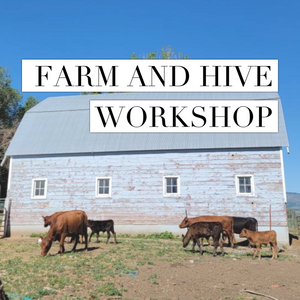 Hi all!  We are right in the middle of summer and loving all of the long sunny days, with flowers growing and bees a buzzing.  One of my favorite "bee friends" has invited us to come to her new farm in Idaho to teach a two day workshop in October.  Farm and Hive  is where we will be on October 13th and 14th and we can't wait to share the details with you.     We have been blessed to know Susie Goodspeed for many years.  We met at an event in Midway, Utah where she was selling her honey and beeswax products...
---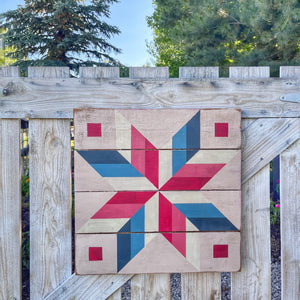 Happy 4th of July!  We hope you are having a wonderful summer full of sun, water and lots of flowers.  In honor of the holiday we are releasing our newest barn quilt, the Pink Patriot.  We wanted to design a quilt and barn quilt this year with the soft color of pink in it to pay tribute to the hard working, and hopeful women who who have made sacrifices on behalf of our country.  There are numerous stories of women in active service away from their loved ones, and women at home in service working to support their loved ones and...
---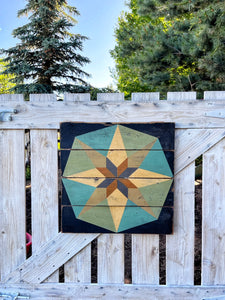 Our two new Wilde Bloem flowers are releasing today.  We are excited to add Bloeming Sunflowers and Wilde Clover to our growing collection of floral inspired barn quilts, barn quilt kits and patterns.   Both of these flowers are dear to our hearts because of the symbolism in each of them.  All of the Wilde Bloem flowers were chosen for their meanings and for design elements that make them extra beautiful in paint and cloth quilts. Bloeming Sunflower Barn Quilt Bloeming Sunflower Barn Quilt Kit The Bloeming Sunflower and Wilde Clover Barn Quilt Kits include a Farmhouse Planked Barn Quilt Board,...
---
• DIY • DIY Projects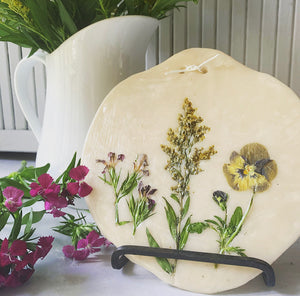 The day our snow is melted we are out looking through the grasses and rocks on the mountain for the first peeks of those colorful blooms.  This year I wanted to preserve the first of the blooms with these farmhouse pottery slabs.  So, I went for a walk in the field to find a few beautiful flowers.     They are so easy to make and so beautiful hung in a collection on a wall, or displayed with your favorite blooms.  It is also a great way to preserve special blooms from bridal bouquets and other special occasions.  You can make...