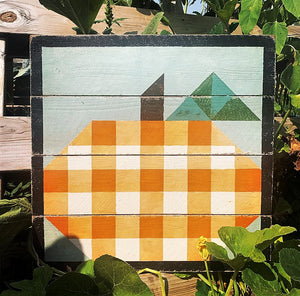 Growing in a small little part of our garden is a pallet trellis of pumpkins and a couple of new Gingham Pumpkin Patch Barn Quilts.  They are fat, round and so darling you will want one to hang on your front porch for the fall season. Gingham Pumpkin Patch Barn Quilt They come in three sizes and two perfectly fall colors, Pumpkin & Iron Gate, both from the Prairie Paints Collection.  We are so excited to have them in the shop in time for our 20% Pre-Fall Sale.    Our Pre-Fall Sale goes through the end of this week, where you can save 20%...
---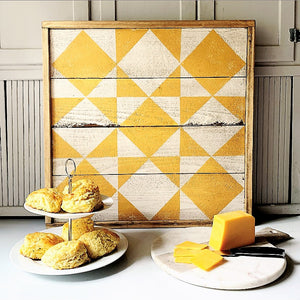 One of my favorite breakfasts as a child was my grandma's Cheddar Biscuits. We would watch them puff until golden and slice them open and eat them with a slice of sharp cheddar, crisp bacon and a fried egg. The heat from the biscuit melted the cheddar and the golden yolks were better than butter over it all. It is one...
---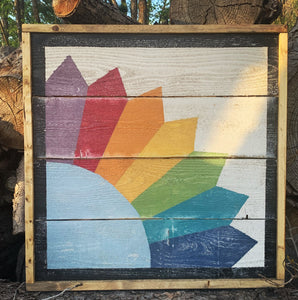 I have always loved rainbows!  After every storm I go out and look to see what colors appear in the sky.  Forever rainbows have been a symbol of hope.  Over the past couple of months through Covid19 and the unprecedented changes that we have all experienced, there have been many "signs of hope" in our communities and families.         For as many fear driven stories and realities played out on television screens and in personal accounts of loss there has been stories of hope.  We see it in the front line essential workers who have served us,...
---
• barn quilts • Patterns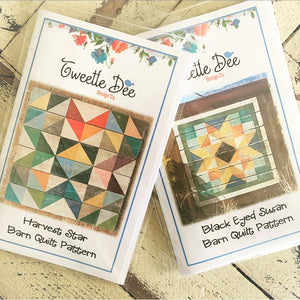 You have been asking for a couple of years when we would release the patterns for the Harvest Star and the Black Eyed Susan Barn Quilt, and today if the day they are completed and in The Shop.  This was for sure one of those patterns that was worth the wait.  We were so happy to add full color diagrams and templates to these two patterns and to offer them as a PDF Download for those of you who can not wait for snail mail!   Each of the patterns has the color design diagram, a black and white diagram template,...
---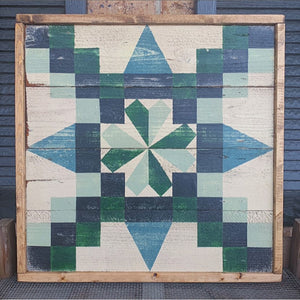 This design was created last fall at the request of some darling grand kids from the midwest who wanted to honor their immigrant grandmother who came from Ireland, built her farm along with her husband, planting clover each spring, and who loved to quilt the Irish Chain.  We added her colors and a little blue to represent the blue skies that wrap their farm from the north, south, east and west.