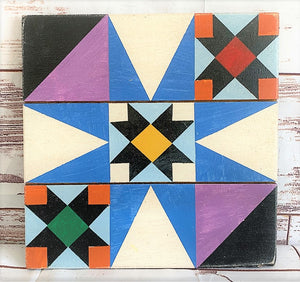 Tweetle Dee Design Co.
Stories in the Stars MCD Barn Quilt
Regular price
$65.00
$0.00
Unit price
per
Our hand painted Stories in the Stars MCD Barn Quilt is an original design by us at Tweetle Dee and is part of the Moonbeams & Cabin Dream Collection.  Stories in the Stars was designed after reading the account of my great-great grandfather's stories around the campfires, looking to the stars and sharing stories with settlers, fellow missionaries and Native Americans.  All together supporting one another in living on the plains, they would gather and tell stories of the stars to connect together.  The Moonbeams & Cabin Dreams Collection tells the story of the Pioneers and Homesteaders of the Nebraska Prairie as told to our family thought our Great-Great Grandfather who was the first Christian Missionary on the northern plains.
---