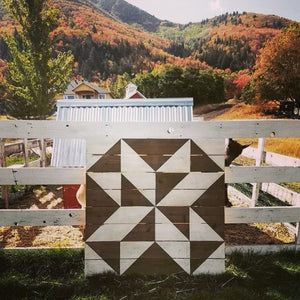 Tweetle Dee Design Co.
Sickle & Wheat Star Barn Quilt
Regular price
$125.00
$0.00
Unit price
per
The twisted blades of a sickle cutting through fields of  wheat were the inspiration for this barn quilt star designed years ago to honor my great grandfathers and mothers who harvested their grains by hand.  I grew up in the farmhouse they built and their sickles hung in the woodshed.  I loved to hold the smooth worn handles where their fingers gripped this blessed tool.  
 Hand painted and sealed for indoor or outdoor display.  It is one of my favorites for design and simplicity.  It will be yours too.  
Hanger included.  Some assembly needed for larger sizes.  
---