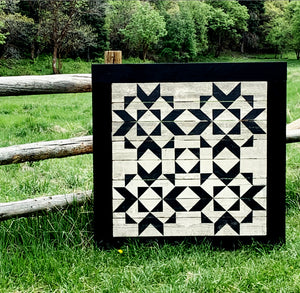 Tweetle Dee Design Co.
Kincade Star Barn Quilt
Regular price
$145.00
$0.00
Unit price
per
Our newest star to our Barn Quilt Collection is the Kincade Star.  Named after my ancestors who came to America as Palatines working to clear the land of upstate New York to gain their freedom and a piece of land to call their own.  The black and white turns of this star block represent my personal images of their homestead, which I visited with my Grandmother often.  It stood vacant, abandoned, with shades of black and grey wood however through the empty windows my grandmother would weave the stories of their lives.  Just as this star as a center that weaves together into one whole, the path of their lives weaves a center of faith and history for me.
So, a nod to history and the stories we all have in our family trees that may appear to have holes, or be lost, yet in the middle there is the center of strength we can find.
Available in a 22", 33", 44" or 55" hand painted, stained and sealed piece that works for indoor or outdoor display. Framed in black cedar for long life.  Hanger included.  Some assembly needed for larger quilts.  Larger sizes upon request. 
---